This is a beautiful dish for a crowd.  Tender chicken, great italian red sauce, and tons of vegetables.  It comes out looking like a million bucks!  This recipe will serve at least 12.  I use my turkey roasting pan as my cooking and serving dish for this recipe.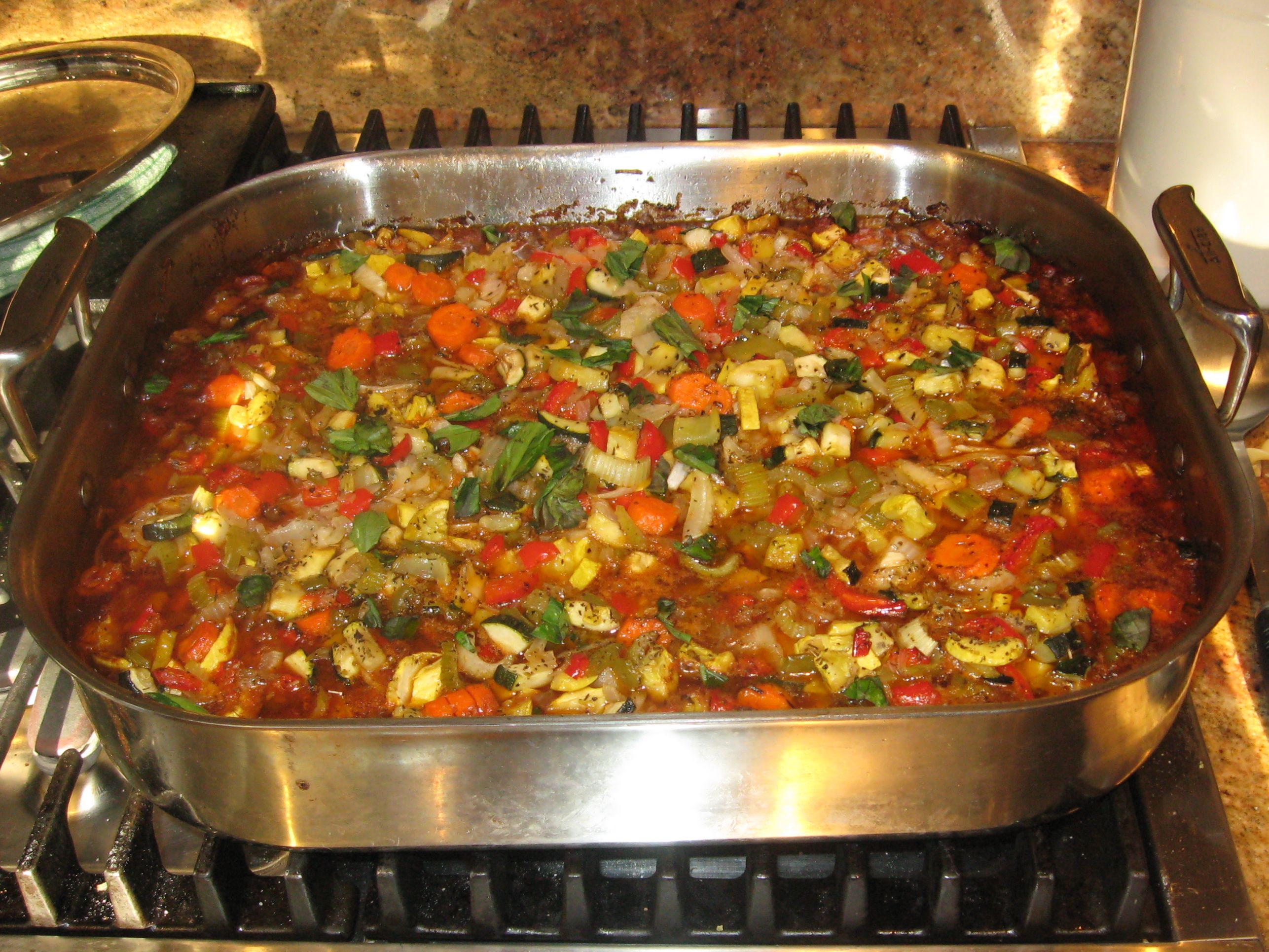 Ingredients
16
Chicken Thighs (Bone-In, Skin Removed)
28
oz
Can Diced Tomatoes, Drained
4
Green Peppers, seeded and chopped
2
Yellow Peppers, seeded and chopped
1
Bunch of Celery, cleaned and chopped
3
Yellow (Summer) Squash, chopped
1.50
tbsp
Italian Seasoning
Prep Time1 hr
Cook Time2 hrs
Total Time3 hrs
Directions
1
Chop all vegetables into small pieces.
2
Heat 1/2 of the Olive Oil in Large Saute Pan. Add all vegetables and saute for 10 minutes. Add Garlic for one minute. Set aside in separate bowl or plate. 10 Minutes
3
Add remainder of olive oil to saute pan and heat. Add chicken thighs, top side down, and brown for 3 minutes. Remove and set aside.
4
Deglaze pan with red wine, scraping up all of the goodness. Add tomatoes, tomato sauce, tomato paste, and spices. If you're not already cooking in the pan you'll be baking in, transfer sauce to that pan.
5
Layer the chicken thighs, browned side up, in the pan, in the sauce. Layer all vegetables on top of that. Cover tightly with foil. At this point, you can set aside and refrigerate, or cook.
6
Cook, still covered with foil, at 325 (convection preferred) for 1 hour and 45 minutes. Add 15 minutes if you are taking it out of the fridge. 105 Minutes