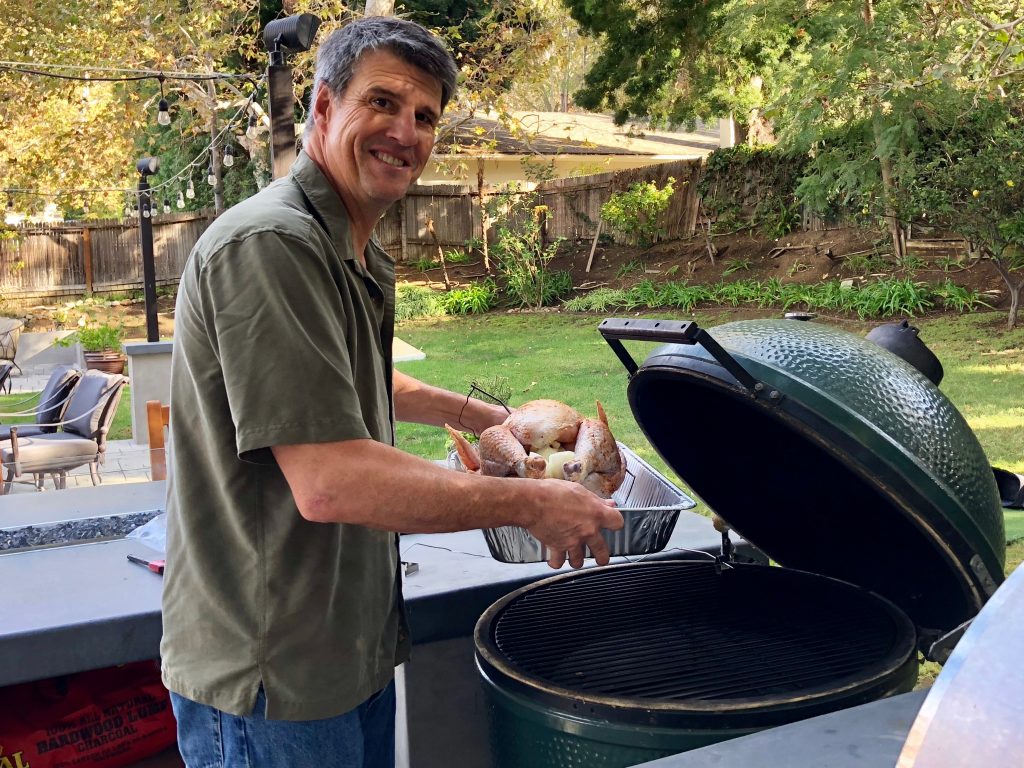 Hello from Principalchef (aka Mike)!
My wife Jill and I do a lot of cooking and entertaining in our home. My older son Ryan is living on his own and now teaching me some new tricks, and my younger son Dawson can handle himself in the kitchen and on the grill as well. It's a way of life in our home. My cooking influences are my Mom, my Arkansas roots, my friends and amazing cooks in our neighborhood in Malibu (thanks Chris, Karen, Laurie, Pete, and Sheri!), and my California living since 1980. I love using this site to share recipes and stories with my family and friends. I am a school administrator by day (and often by night), and I love to cook whenever I get the chance, hence the name – principalchef. Cheers! – Mike.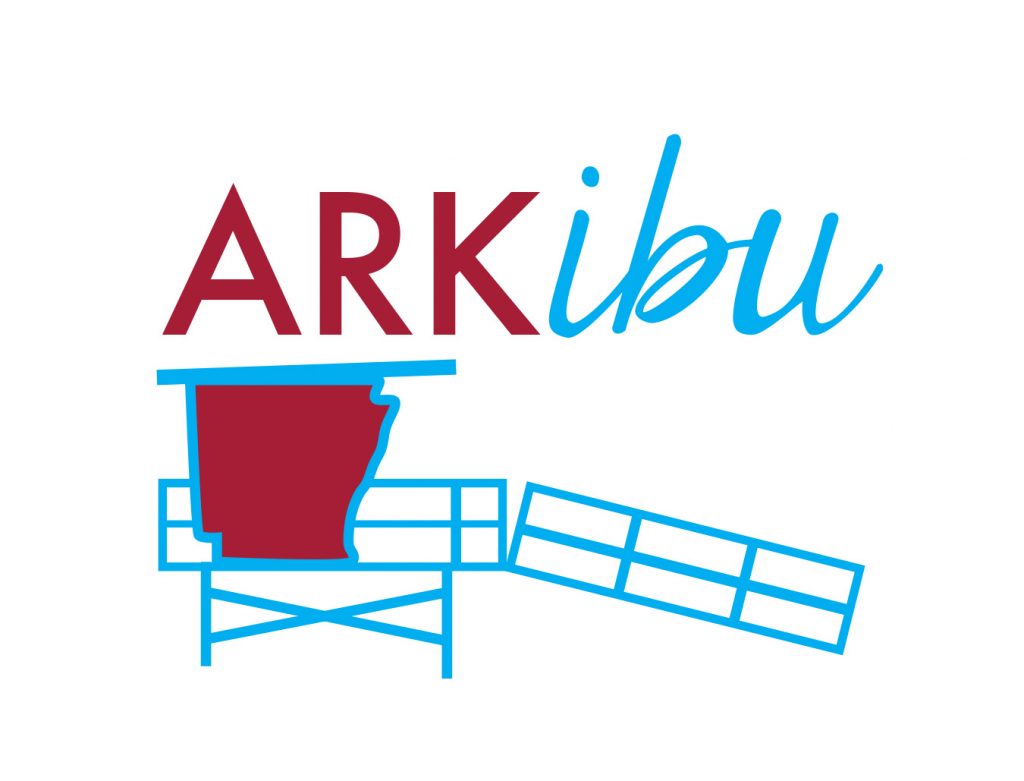 I feel very fortunate to have a beautiful open kitchen in our home, and since 2018, a fantastic outdoor kitchen as well. My brother Pat designed it and my friend Tim built it, and it has a built in Blaze 34″ BBQ, XL Big Green Egg, a sink, seating for 12 around a built-in fire pit, a slide out trash can, drawers for utensils, and lots of storage. I'm ready for anything!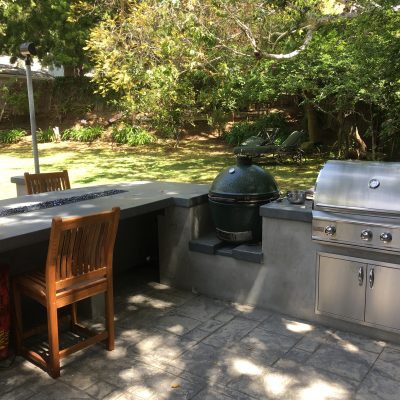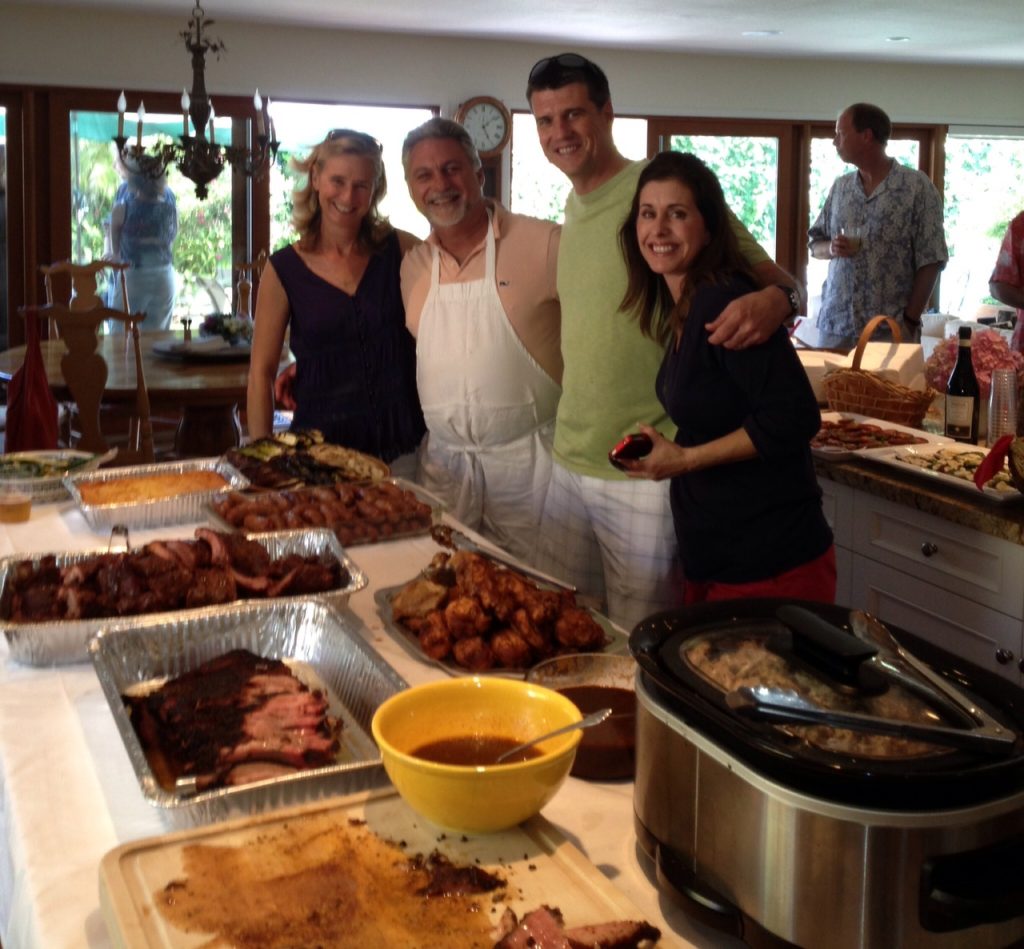 Jill and I love preparing dinner for two, three, four, eight, or one hundred. One of my favorite weekends was when my next door neighbor Pat asked me to cook for a wedding gathering for 50, officiate her daughter Kristin's wedding, and sing a song at the wedding. When I was introduced with my guitar, I overheard one person say, "The cook guy can sing too?" Pretty nice little Saturday really.
We have lived in the same 1600 square foot single story home since 2000, and in the same neighborhood since 1993. We love our home and I am not sure we will ever move! Our home interior is very open, and we're lucky to have a large back yard. We eat indoors and outdoors – more outdoors since we have a fireplace built right into our outdoor kitchen. Though when it gets a little cold in Malibu – like under 68 degrees – Jill is a little reticent to get out there and brave the elements.
The principalchef.com website serves as my cookbook for my favorite recipes, and it's my way to share recipes with friends and family. Oh, the name "principalchef" comes from the fact that I was a public school principal for 13 years and I do love to cook. I've been a school superintendent since 2010, but "Superintendentchef" just doesn't have the same ring.
With my job, I am out of the house for evening responsibilities at least two times a week, so when I get the chance to cook on the weekend or occasionally during the week, I feel very fortunate and I make the most of it. I hope this website helps you to love cooking and serving others as much as I do.
Cheers!
– Mike
SUBSCRIBE
To receive our best recipes right in your inbox
Error: Contact form not found.