Cooking Utensils and Tools
Thermapen Instant Thermometer.  OK – This is expensive, but it's one of the mosts used items in my kitchen.  It's the best instant read thermometer there is.  I use it mostly for internal temps of meats, but I use it to check oil temps when I'm frying, fridge temps when I am monitoring, outdoor temps when I'm curious, and anything else in about two seconds.  Save up and splurge.  It's worth it.
All-Clad Pots.  I love my All-Clad pots and my All-Clad Roaster.  They heat well, they clean well, they look absolutely beautiful, and I don't need any more than that.  And the turkey roaster serves as a beautiful roaster and dish for crowds  I have the skillets as well, but I don't even use them.  I don't know why, but they do not clean as well.  And I love my cast iron skillet so much that I have no need for the skillets.
Cast Iron Skillet.  I have two!  The 12″ one sits on my stove at all times.  With the exception of making eggs, I make almost everything else in here.  My cast-iron skillet salmon, cornbread, and almost anything else.  It's so easy to clean.  You clean it without soap, dry it thoroughly, spray a little cooking spray on it, and it's ready when you're ready.  Get one!
Gas Grills. If you are in the market for a non-installed gas grill, in my mind, there's only one choice: The Weber Genesis. The Summit and the Spirit are also fantastic, but the Genesis is right in the middle and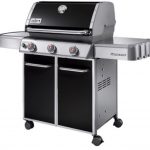 does the job perfectly. It just works. It's reliable and when parts wear out, they are readily available. I'm not a fan of the extra burner. You don't need that, and it's just less space to place stuff.
The Big Green Egg. It's my favorite cooking device ever. Where do I start. I've been smoking meat for about 15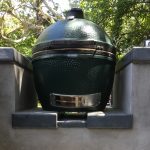 years. I had an offset smoker – kind of a barrel looking thing with a small firebox to the left, for 10 years. It worked well, but it was a lot of work! It was a $250 dollar smoker, so the metal was not too thick. That means it did not keep the heat in as well as more expensive devices. And that meant that yours truly had to check the temperature every 30-60 minutes, adjust the vents, or add fuel. Too much work!
The Big Green Egg changed all of that. With my BGE, it takes about 30-45 minutes to get the temperature exactly right, and then it's a rock. It will just stay there. And stay there. And stay there a little longer. The natural hard lump charcoal can burn for up to 12 hours. The charcoal that you don't use, you get to use next time.