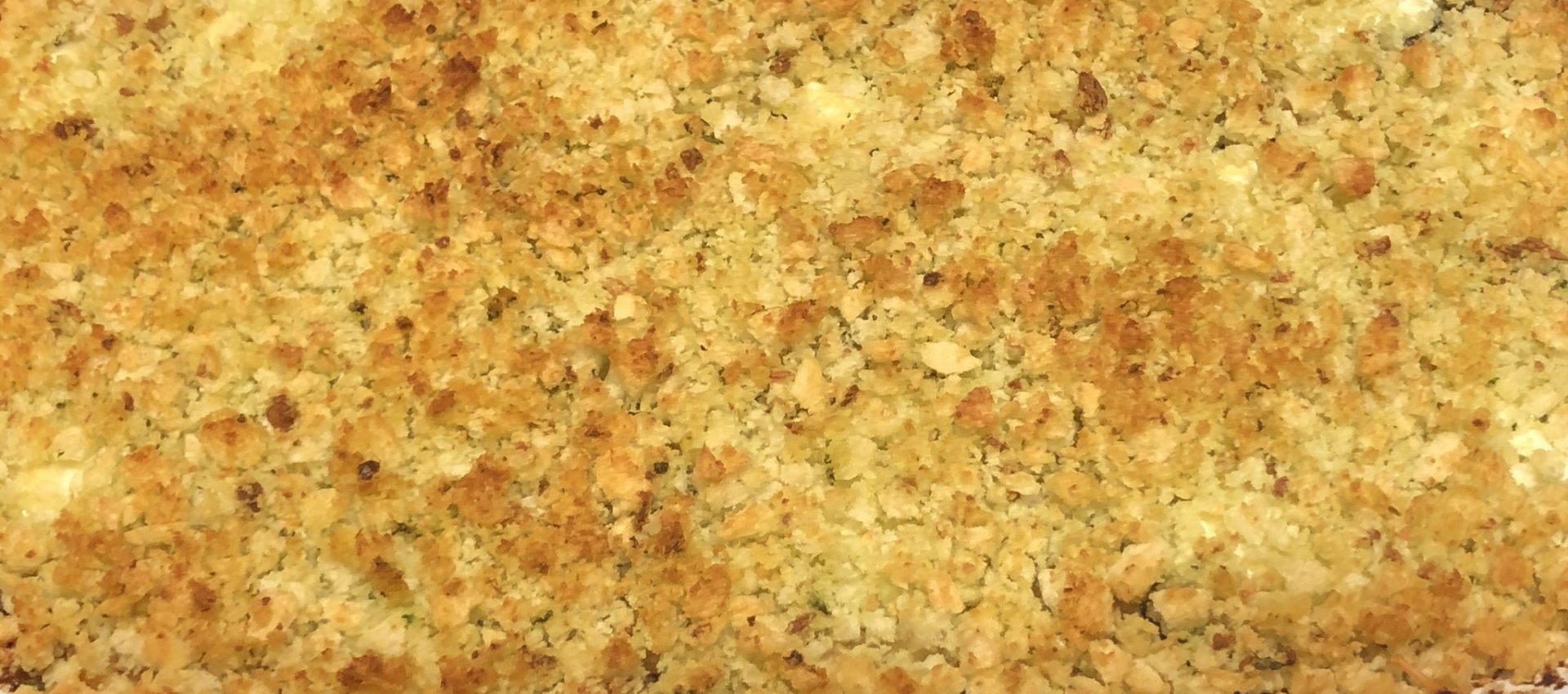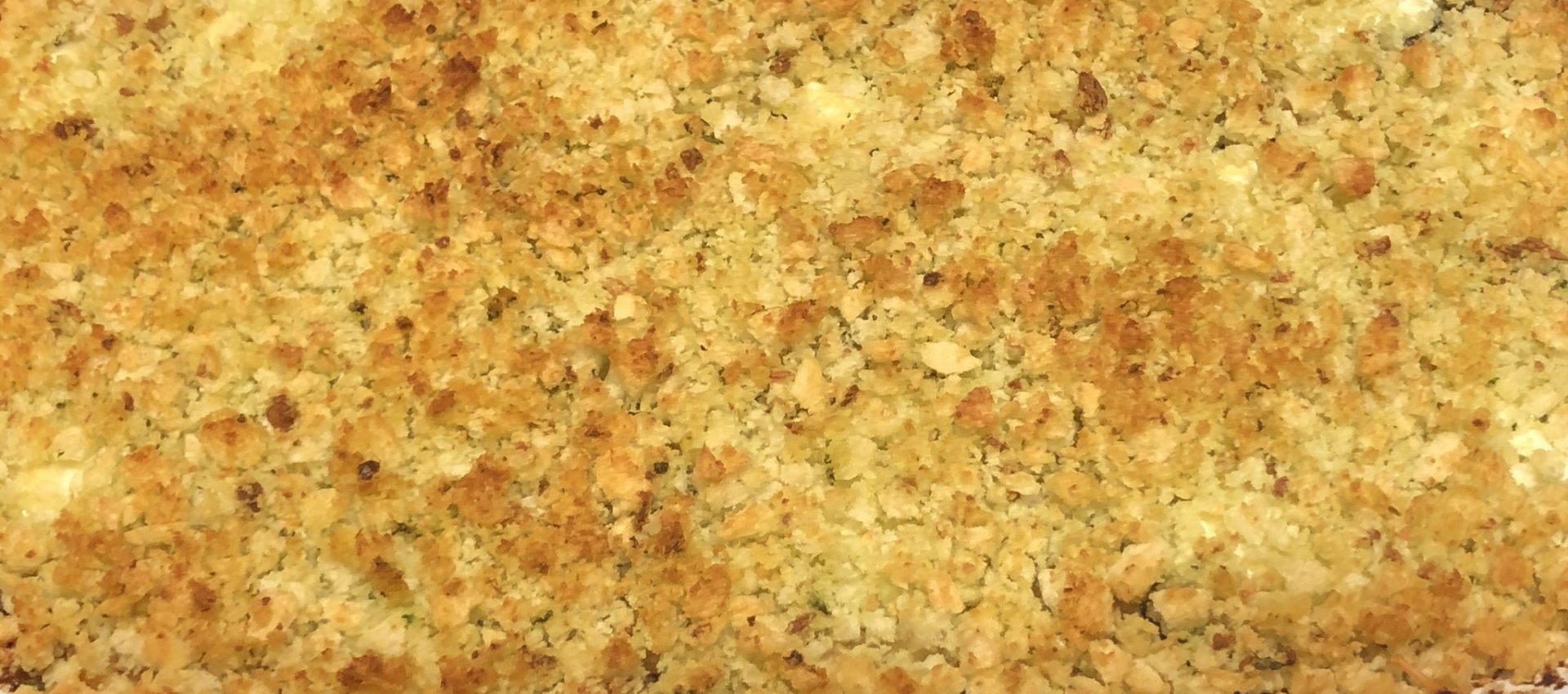 Eggplant Parmesan (Adapted from Ina Garten's Recipe)
Cooking for a Crowd, Entree, Pot Luck, Vegetarian Italian, Veggie In the Kitchen
October 13, 2019
I made eggplant parmesan for my son Ryan when he was in 5th grade. At his elementary school's open house that year, I saw a crowd of people gathered around an essay that was posted on the wall. Some of my friends called me over. Ryan's was a great writer even then, so I was preparing perhaps to hear a few accolades. Then I saw his essay title: "My Worst Day Ever." Oh boy. What was his worst day? The day I made eggplant parmesan for him. "What was my dad thinking? I'm a kid. What kid likes eggplant?" Everyone got a big kick out of it, all at my expense. It's the story of my life.
And yet, I sill love it. I recently purchased Ina Garten's Cook Like a Pro cookbook (it's another winner), and found a recipe for an eggplant parmesan that roasted (not fried) the eggplant. When I made it for Jill, she declared it the best thing I'd ever made. Thanks Ina! Please find my version of Ina's recipe below.
Prep: 1 hr 8 mins
Cook: 1 hr
Yields: 6-8 Servings
Ingredients
3 Eggplants, Average size, not too thick or thin
4 cups Marina Sauce, Your Favorite Jar
1 lb Fresh Mozerella, Sliced and Quartered
1 French Bread Loaf (1-2 Days Old is Best)
Directions
1Preheat oven to 400 degrees.
2Take 3 eggplants and slice into 1 cm wide pieces (Ina's tip: Cut the eggplant in half, lay on flat side, and cut safely and easily.)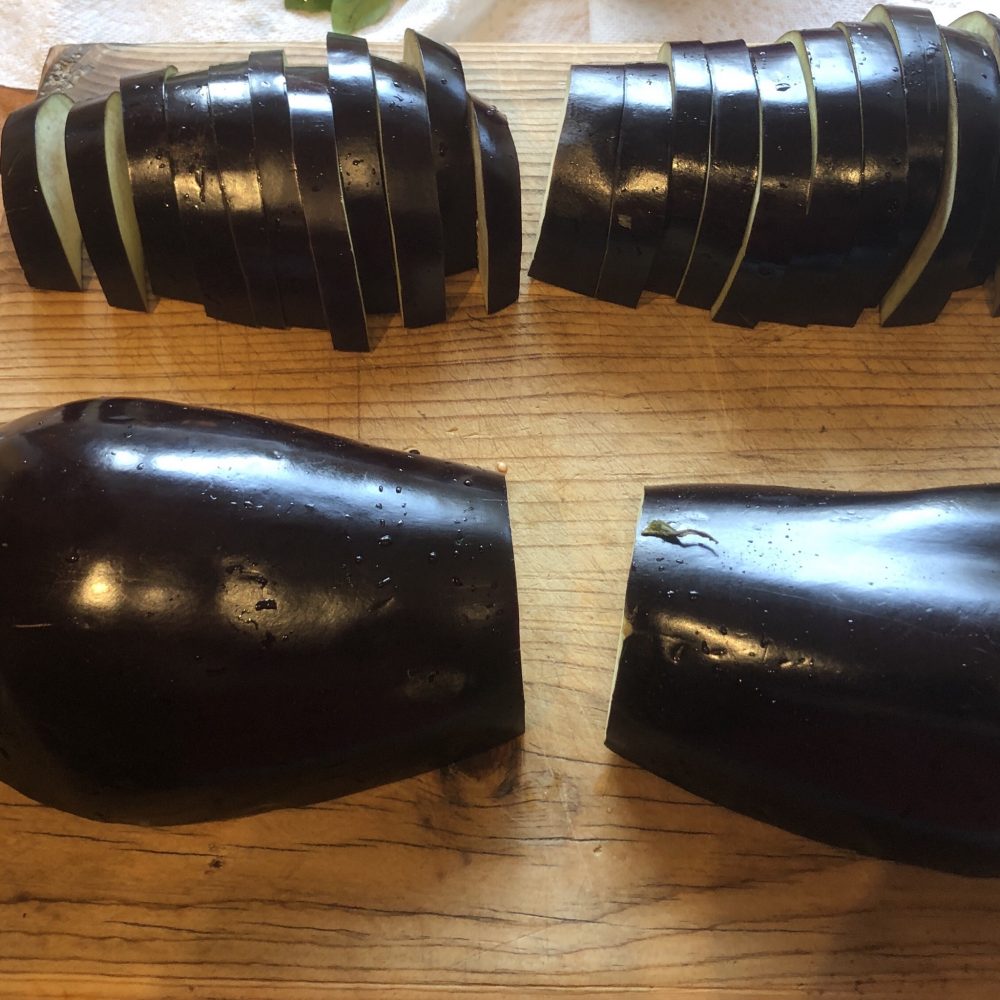 3Lay eggplant slices on cookie sheets covered with foil (you'll need 3 1/2 sheets). Brush with olive oil and season lightly with salt, pepper, and Italian seasoning. Repeat on other side.
4Roast eggplant at 400 degrees for 20 minutes. Turn over and roast for 15 minutes until there is some brown on top. Take out of oven and cool.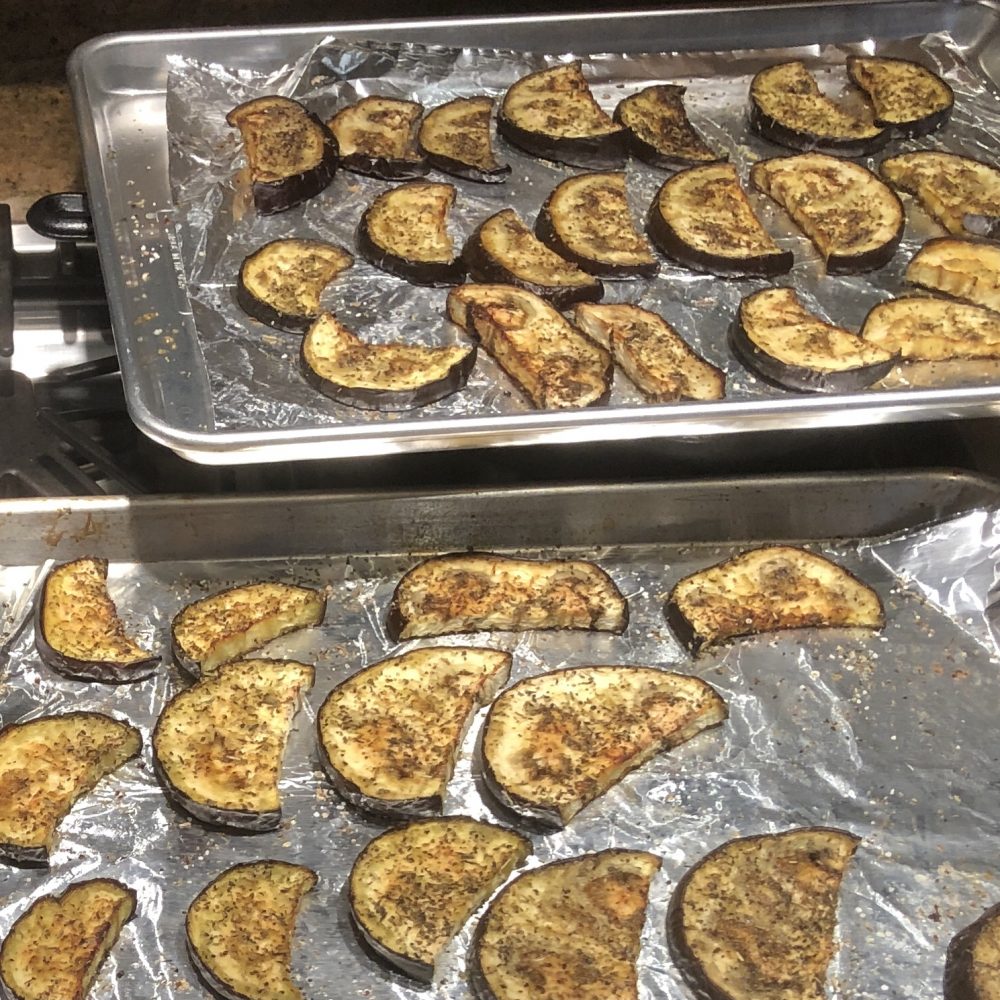 5While eggplant is roasting, tear french bread and place in food processor. Add garlic cloves and give it a whir until it looks like bread crumbs.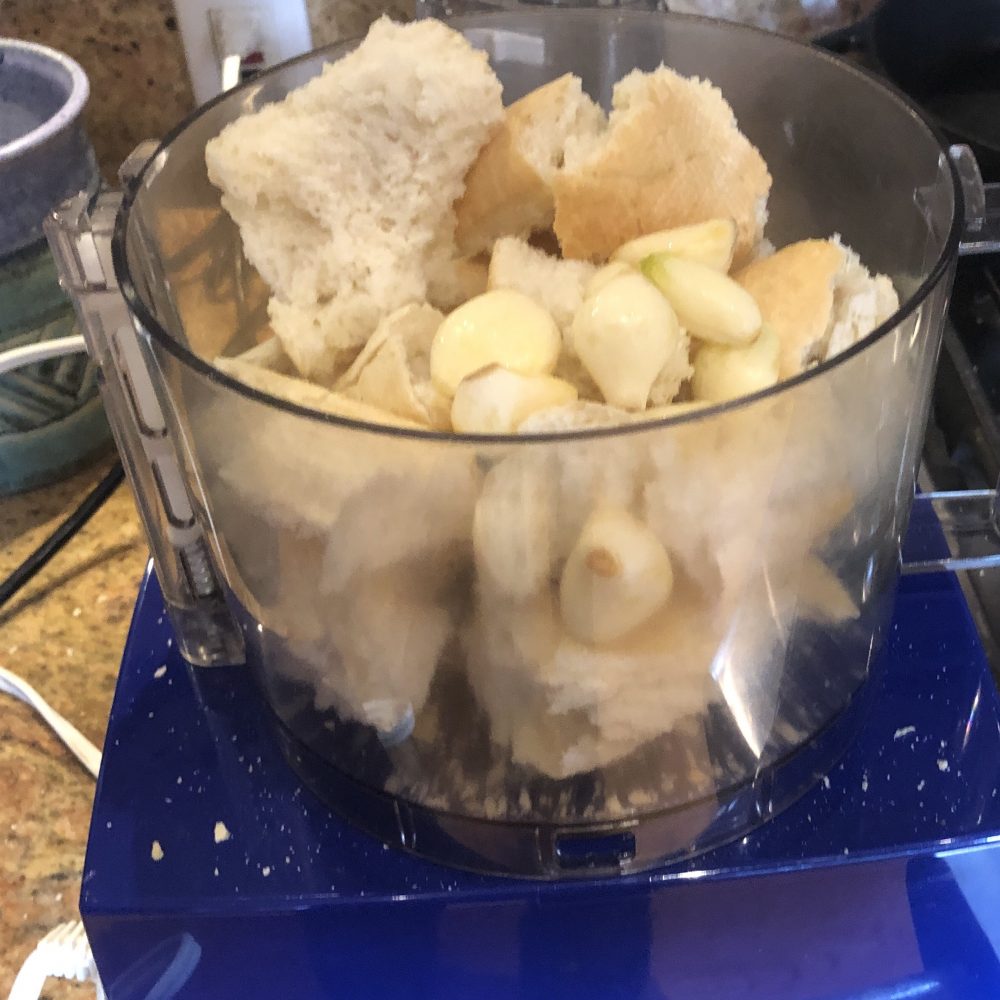 6Add 1/4 cup of basil leaves to crumbs.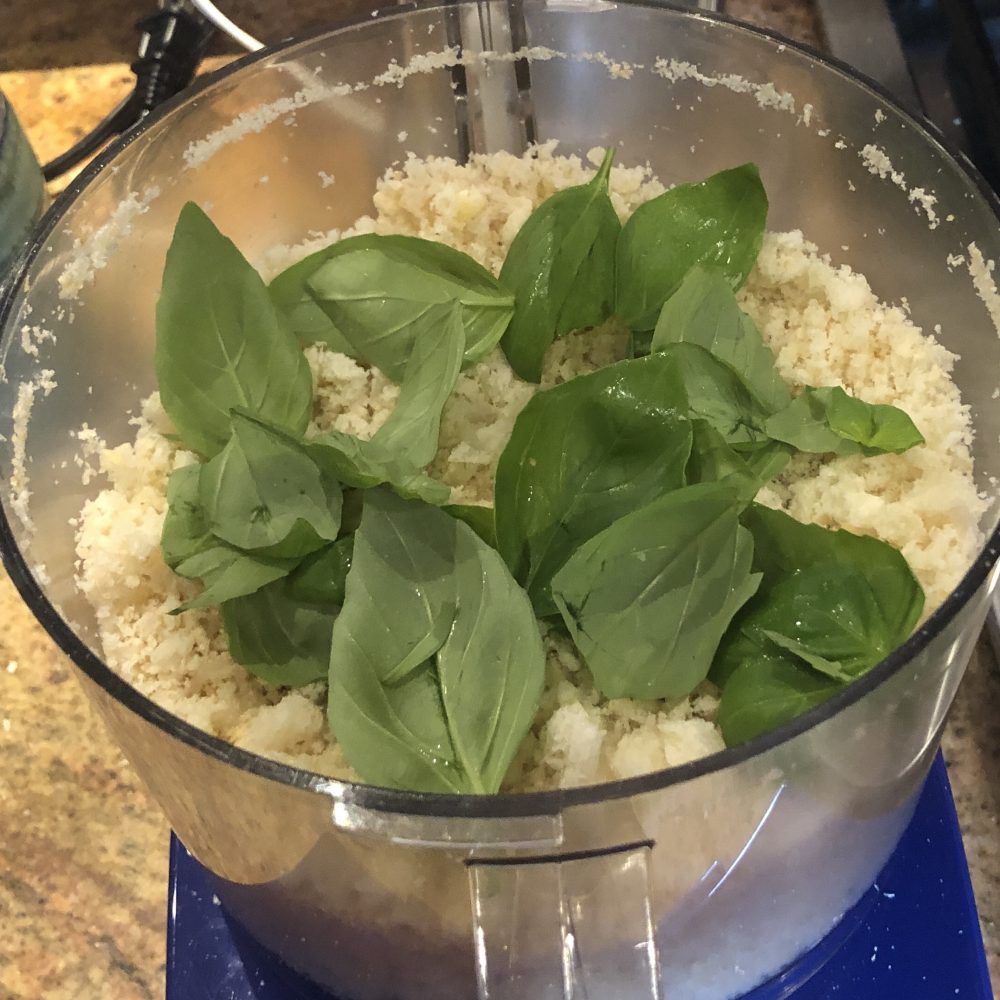 7Process again until you have beautiful basil-ly and garlicky fresh bread crumbs. Mix with 1/4 cup olive oil, and set aside.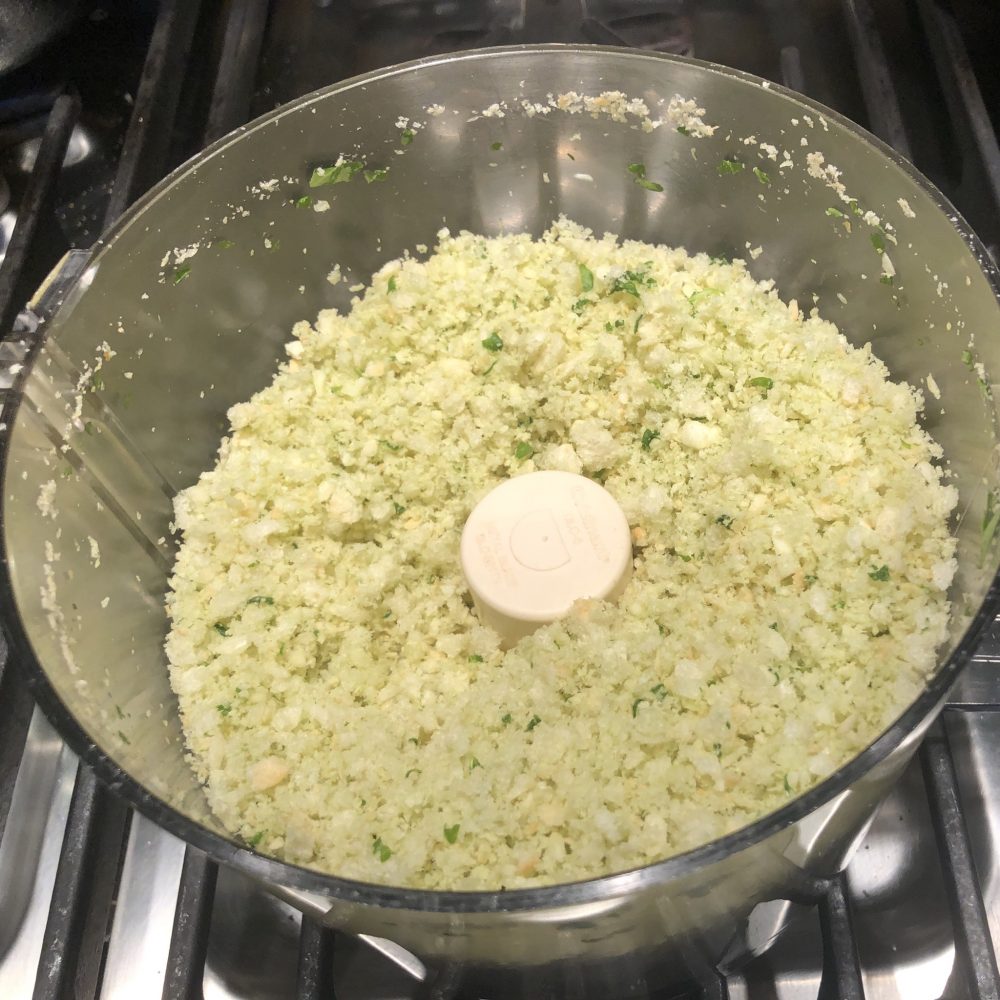 8In a deep casserole dish, start the lasagna-style layering. Start with 1/3 of the sauce and lay 1/3 of the eggplant on it.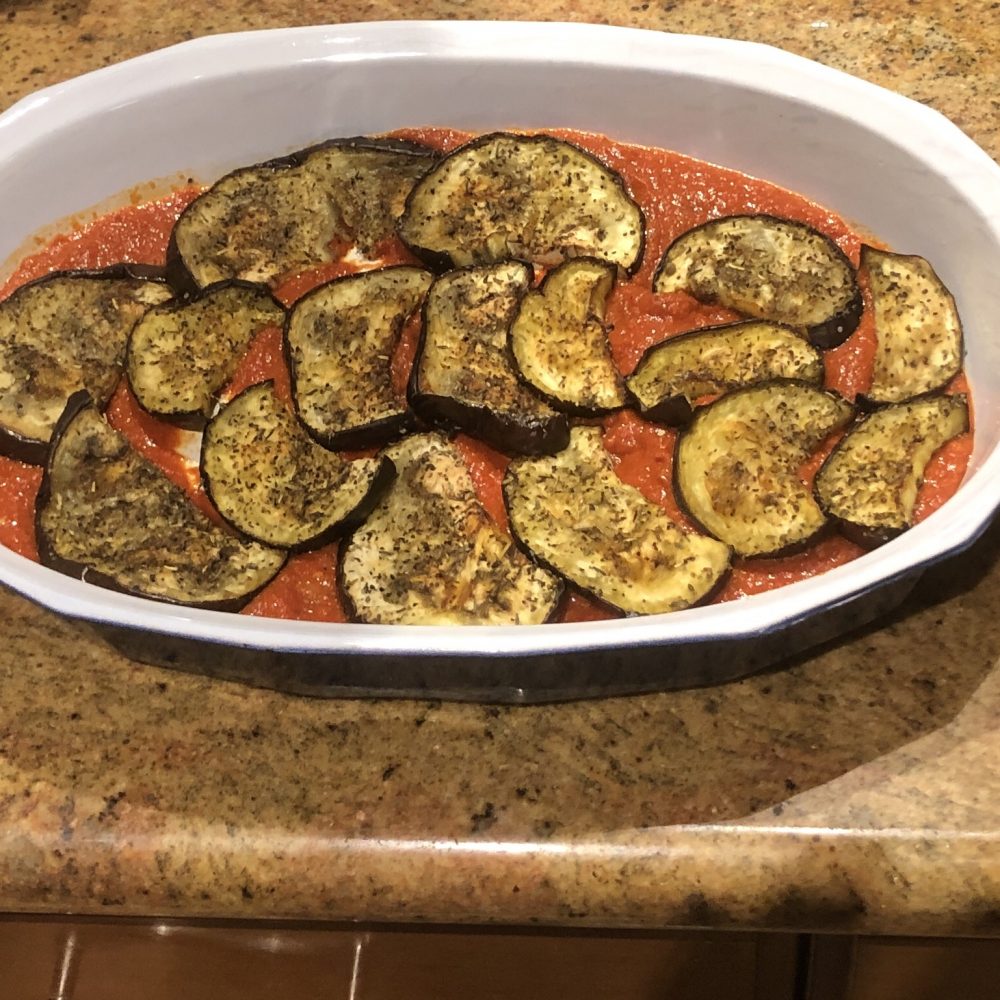 9Add 1/3 of the fresh mozzarella, parmesan, and shredded mozzarella.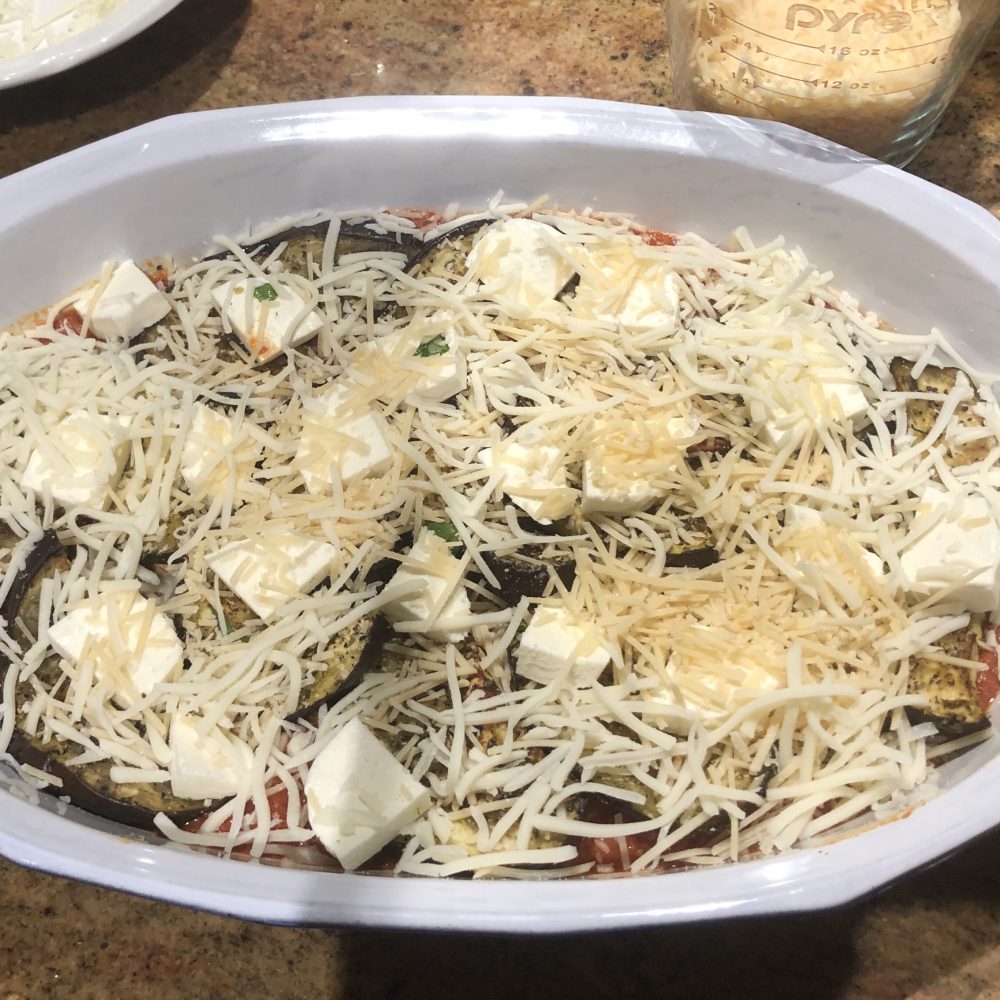 10Repeat on for the second layer, but add the rest of the basil (chopped) to the top of that layer.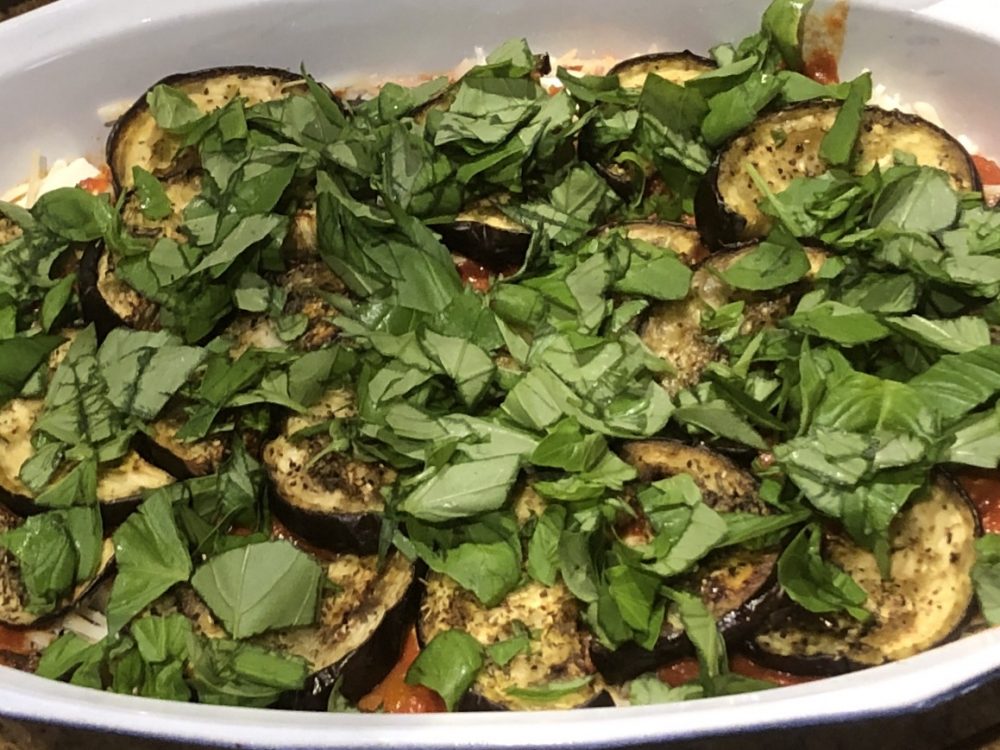 11Add the third layer, then add enough bread crumbs to cover completely.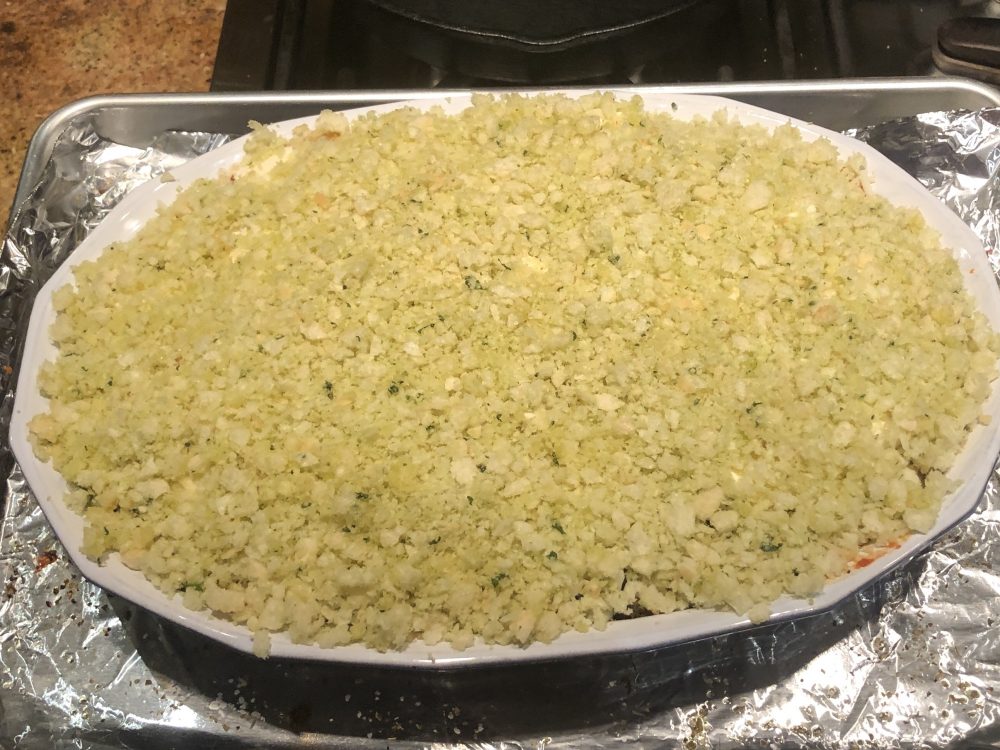 12Cook at 400 degrees for 40-45 minutes (until the bread crumbs are brown and the sauce is bubbling) and you are set! Let it cool for at least 10 minutes (20 is better) and you are ready to serve!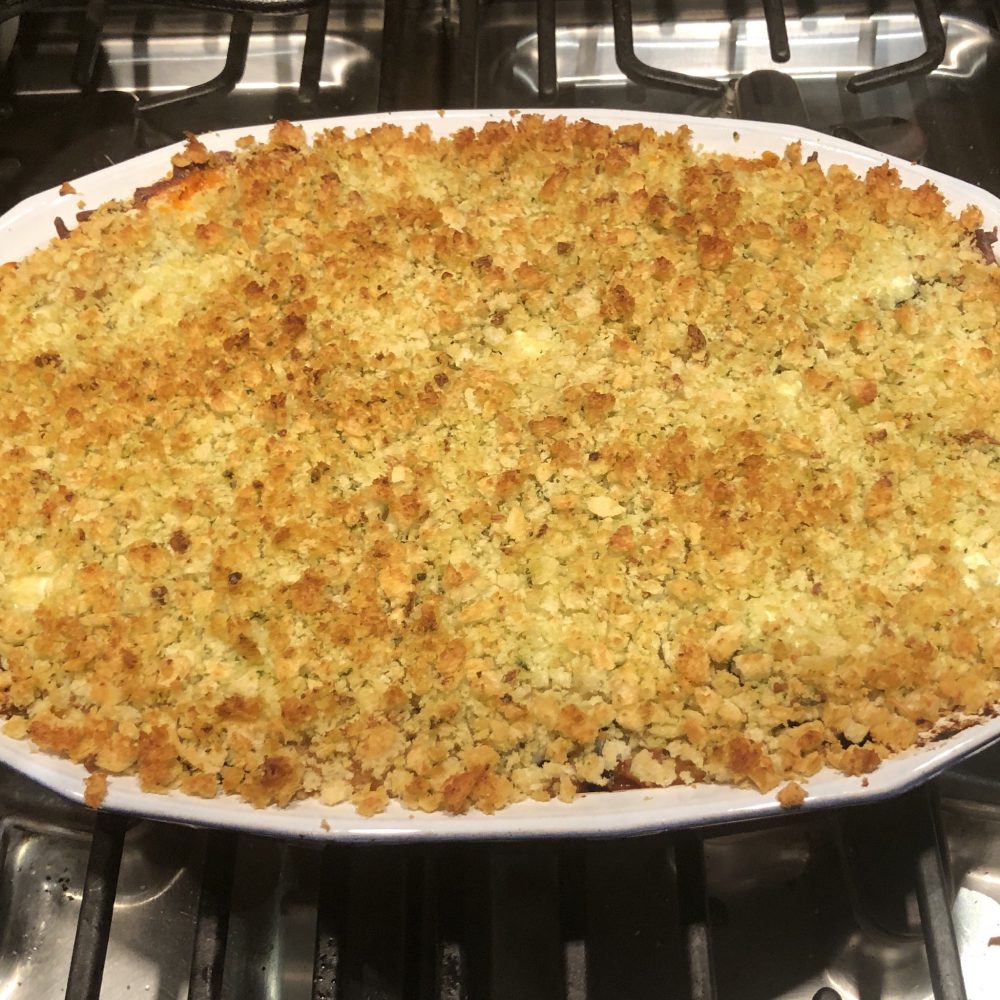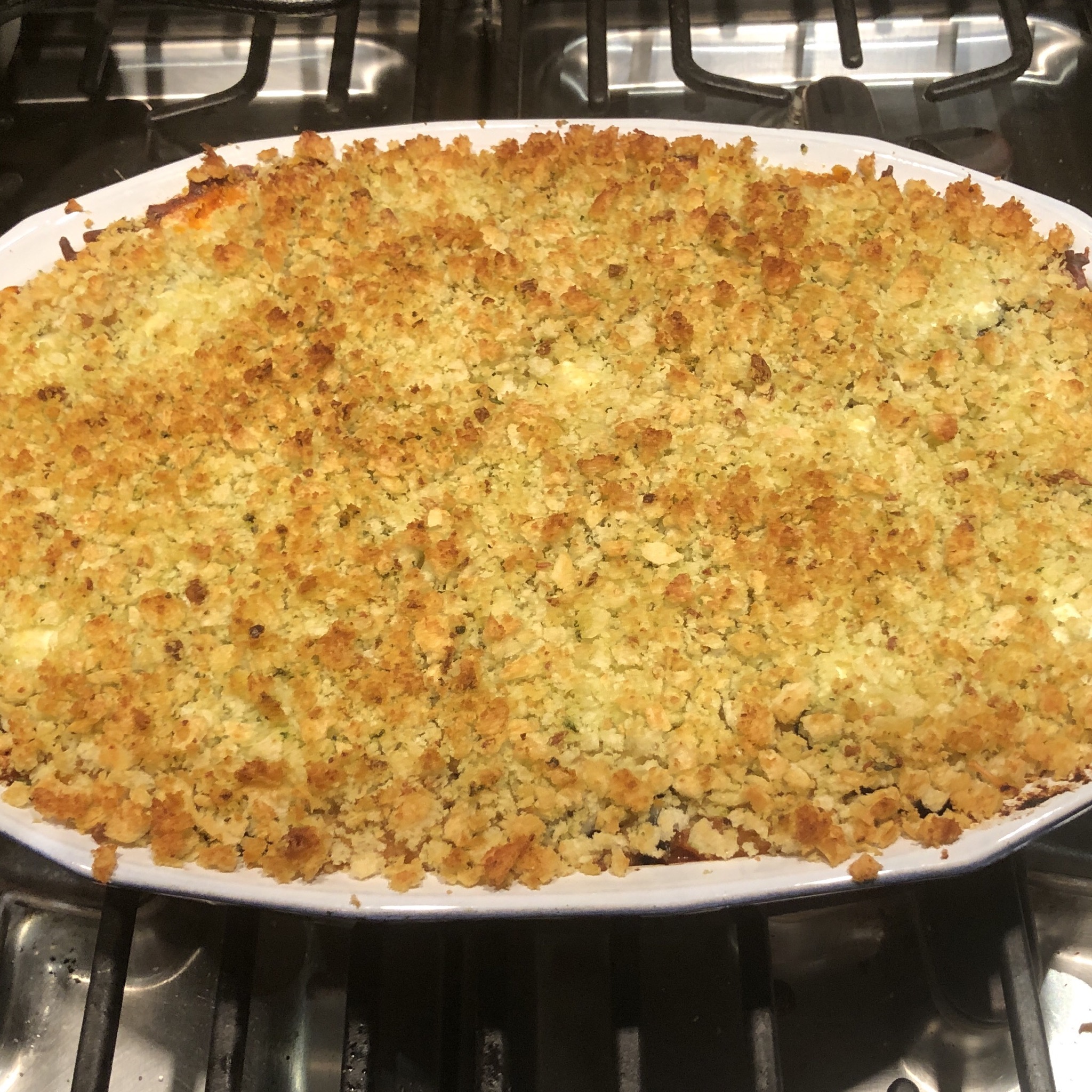 0 Reviews