When I was in high school, I often came home from school very late during swim season. I would miss the family dinner, but my Mom always had food waiting for me. One oof my favorites was chicken and dumplings. There are many recipes in the same family. A hot and thick stew with chicken and vegetables, with either dumplings, pie crust, or biscuits. Over time, I have fallen more and more in love with biscuits, so why not eat them whenever you can. (Other than the obvious caloric reasons, which we should not even mention here!)
This recipe is a combination of Ina Garten's chicken stew and Joanna Gaines' biscuits.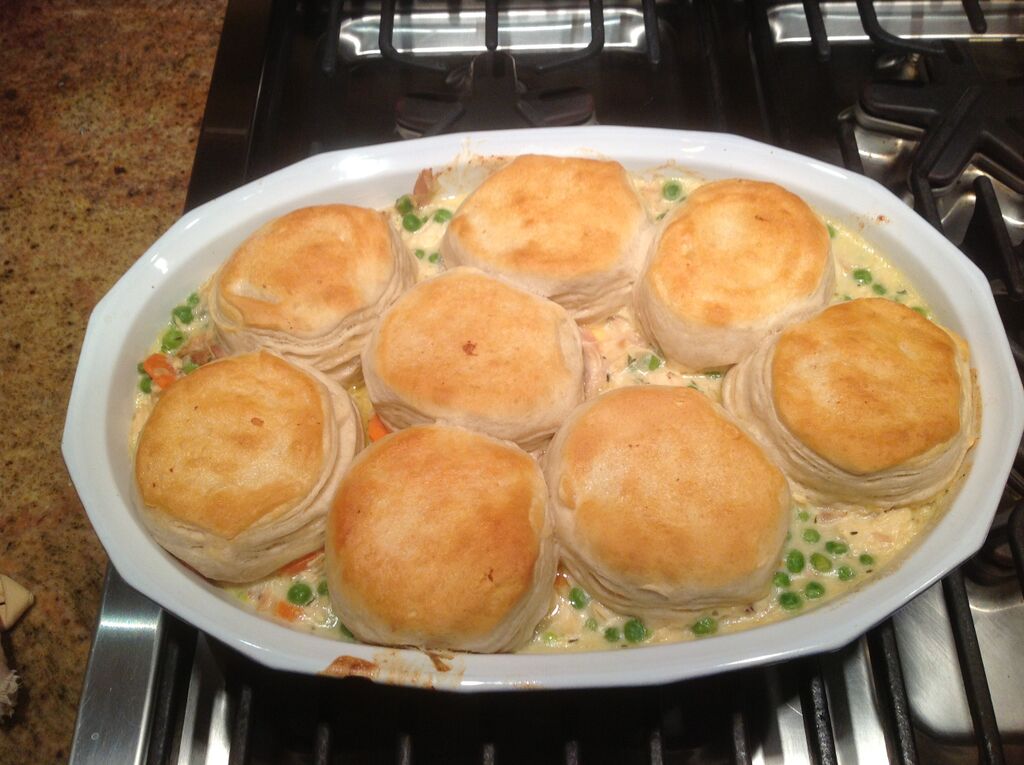 Ingredients
1
Rotisserie Chicken (Hard to beat Costco's)
(That's about 5 or 6 cups of chicken!)
4
Stalks of Celery, washed and chopped
6
Carrots, peeled and chopped
1.50
cups
Frozen Small Onions
I love these - you don't need them, but they make the dish look way better!
1
cup
Fresh or Frozen Peas
12
tbsp
Butter (1 and a half sticks)
Prep Time1 hr
Cook Time30 mins
Total Time1 hr 30 mins
Directions
Preparing the Stew
1
Take the meat off of the Rotisserie Chicken., and put the carcass in just enough water to cover it up. Add some onions, carrots, celery and a bay leaf, boil then simmer for 90 – 120 minutes, and you will have an outstanding broth. 90 Minutes
2
Begin the stew by making a roux. Melt 1.5 sticks of butter in a stock pot, add 2 chopped onions and chopped celery and sauté for 10 minutes or a little longer. Add the flour and stir for two minutes until it is quite thick.
3
Gradually add 5 cups hot chicken stock to the roux , stirring all along. Simmer and heat for 3-5 minutes.
4
Add carrots, peas, chicken, small whole onions and parsley. Add salt and pepper to taste. Start with 1 tsp pepper and 1 tsp salt. For me, it depends on the saltiness of the broth. Feel it from there! Ina's original recipe called for some half and half to add creaminess , but I really don't think you need it. Put aside until you are ready to cook. You can refrigerate this at this point.*
Making the Biscuits
Putting It All Together
6
When you are ready to cook, place the stew in a healthy big casserole dish (a little deeper than a normal 9x13 if you have it) and heat it until it is quite warm. This may take 15-25 minutes in a 350 degree oven.
7
After the stew is warm, place the biscuits on top and bake for another 30 minutes.
8
Take out and serve with a nice salad, or, since it has all the food groups in there (biscuits and everything else) just serve it on its own.
N